14 Up To Date And Best Real Estate WordPress Plugins
In this article, Tracey Jones is going to list up t date free and Best Real Estate WordPress Plugins.
WordPress is an ingenious content management system that allows people to create a fully-customized website in a matter of few minutes. It offers an extensive range of features to its end users.
Even if you want to create a real estate website, you can use a WordPress because it offers a plenty of real estate plugins that will allow you to construct a purpose-oriented site with ease.
To build powerful Real Estate websites, You need a reliable WordPress hosting provider. We recommend BlueHost WordPress Hosting. Plans are starting from $3.95/month only and when you pay yearly, you can save more.
Bluehost offers a free domain name with their Preferred Hosting plan. The basic plan is starting from $3.95/month only.
With these plugins, you can extend the functionality of your site, showcase different sorts of properties to your potential visitors and web customers. You can use these add-ons to transform your simple and straightforward site into a professionally developed real estate website.
By keeping this concept in mind, we bring you the collection of five most powerful plugins that will elevate the functionality of your property based website.
WP Real Estate Pro – Real Estate Plugin For WordPress
Use Coupon code= WPREP19 and download plugin for $99 $19 only – Limited Time offer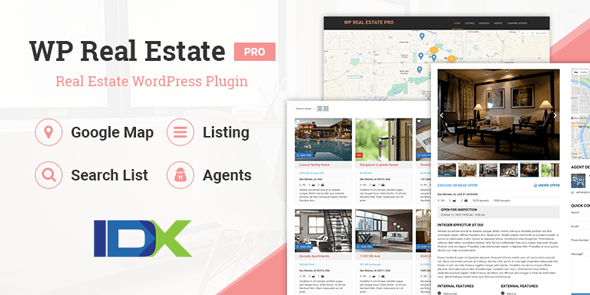 A single website will have hundreds, even thousands of listings. Each listing has to have a lot of details about where the property is, how many bedrooms it has, its price, whether is listed for rent or selling and so on.
Then there are agents, brokers, and agencies to deal with.
Not to mention that information presented on the website should be accurate and up to date to stay compliant with the law.
WP Real Estate Pro claims to be the best real estate WordPress plugins. Its optimum features and customization abilities make it the best solution to create and manage real estate websites.
Here are a few benefits of using WP Real Estate Pro.
WP Real Estate Pro is compatible with all WordPress themes. Just install the plugin, and you can get started.
One-click Demo Import. Never spend hours creating dummy pages to understand the possibilities.
Advanced search capabilities help users find the property they are looking for, quickly.
Google Maps integration lets you display listings visually.
IDX and MLS integration lets you import and manage listings seamlessly.
Fast loading times as a result of the clean and optimized code.
Download Real Esatet Pro Plugin Now
This is an ultimate plugin to easily create a property rental website in WordPress with the Spaced theme and Bookings for WooCommerce plugin.
The Property Rental Bundle is your one-stop-shop to easily and quickly a beautiful property rental website in WordPress.
The bundle includes the premium Spaced Property rental WordPress theme, (which costs $49, if bought seprately) designed specifically for property rentals and the Bookings for WooCommerce plugin which integrates with Spaced and allows you to accept bookings online from potential guests and residents.
Both Space theme and Bookings for WooCommerce plugin are also available separately. Each item costs $49 but with Property Rental Bundle, You can save $100.
There are many other plugin also available to download, view all plugins here
Download Property Rental Bundle Plugin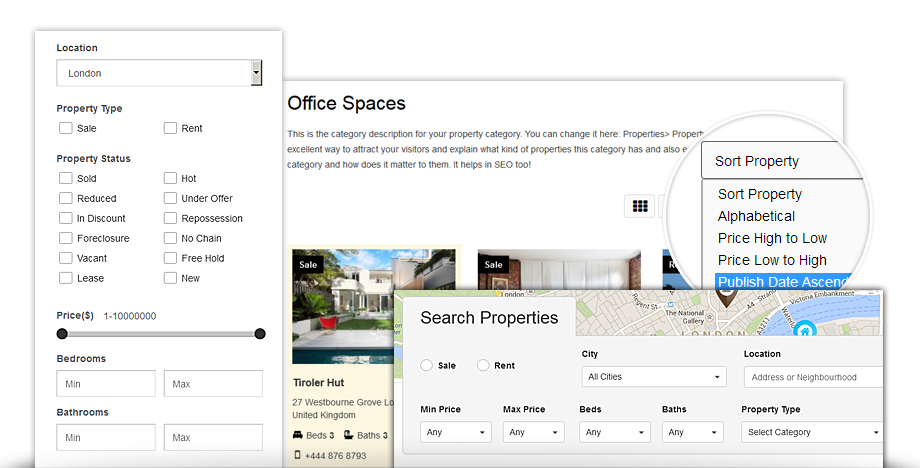 This directory plugin from the templatic.com is used to create property listing with powerful filter options for users.
The best thing about the Real Estate plugin is that it works on top of the WordPress Directory themes, with or without directory features.
In other words, you have the power of the Directory theme (child themes, payment gateways, add-ons) and the flexibility to build a real estate property and showcase it the way you want.
And you always have the option open to extending your real estate portal to another niche in future.
"Google Map Neighborhood" is a WordPress plugin by Layero to help you list nearby places on your website using Google Maps easily.
This plugin provides one of the easiest ways to find nearby places using Address (Latitude and Longitude) on Google Map. Moreover, this plugin is based on the latest Google Maps API version.
What it does:
If you want to display the nearby places like pubs, restaurants, bus stations etc of a location in your website this is the best plugin for you. 'Layero Google Map Neighbourhood Plugin' displays a maximum of 20 results for each nearby place you are looking for.
This is one of the best and simple to use plugin for real estate websites. Simply install and use it. The plugin will create all necessary pages, email template, and settings for you.
You can accept payments using PayPal and Stripe. It lets you make mobile friendly and responsive sites.
You can use your favorite plugin such as Yoast SEO to optimize your site for search engines and it also supports visual composer page builder plugin.
You can create any type of package of your choice e.g daily/weekly/monthly/yearly subscription, free trial, paid trial, one-time payment.
EARN MONEY BY THE PLUGIN
You could charge for any of the following:
Add a listing
Claim a listing
Earn From Bidding money
View a listing
Sell VIP badge
Access to the site
The WP Amortization Calculator is a professional, high quality, and the highly customizable calculator that can be used for Mortgage, Auto or any kind of amortized loan. It can be inserted on a page or used as a widget, even multiple times.
Completely translation ready and included support for many different currency formats. Clean, material design will look great in any WordPress standards compliant theme.
This is a premium yet very affordable plugin, costs you only $20 and you will also get timely updates from the plugin developer.
This plugin was invented by Agent Evolution, a reputed web development company offering a wide range of solutions for real estate brokers and agents.
This plugin was invented by Agent Evolution, a reputed web development company, which is offering a wide range of solutions for real estate brokers and agents. It also offers some powerful features such as:
It allows you to set up your own listing taxonomy or stick, along with the default ones (such as property types, location, amenities of features, etc).
It comes with an ample range of custom data fields, ranging from basic (price, address) to the additional details (internal or external amenities).
Displays your star properties with a "Featured Listing" widget that you can edit as per your needs.
Integrated with the Genesis Agent Profiles plugin that will help you showcase the listing agent(s).
Realia is a one-stop solution for your real estate website. This plugin lets you build a property based site or directory, without ever writing a single line of code. It makes it super-easy to manage all your properties, agencies and agents.
With Realia plugin, you will allow your users to add multiple properties or create the property directory with ease. In fact, you can also review the newly added properties before publishing it to your site. Plus, it offers a wide range of features including:
Easy to add new listings – you can allow agents to insert listings themselves.
Allows you to charge users for specific services.
Provides support for different agencies within a single site and the option to assign agents to them as well.
Integrated with Google Maps to display the location of each and every property included in the list.
Compatible with any WordPress theme.
Note: the development team of Realia is offering three premium options on their homepage that you can use in your real estate site.
WPL Real Estate is one of the most popular WordPress plugin designed especially for real estate websites. It was created by Realtyna, a well-recognized web development company offering high-quality solutions to the real estate agents and agencies.
This plugin allows you to add/remove/edit the fields without making any changes in the database. Essentially, the WPL plugin offers a powerful property search function that allows admin to set the search parameters according to their needs right from the user-friendly admin panel.
Let's explore its unique feature:
It comes with "Add Listing" option that makes it easy to embed properties. In fact, you can also allow your users or agents to add listings.
Users/visitors can search properties with easy by using a list of criteria such as zip codes, cities, states and more.
Listings, by default, can be shared on multiple social media platforms such as Facebook, Google+, Twitter, etc.
The different listing, room, and property types are available to group your listings and allow users to pick out their choices.
Supported by Google Maps.
Let visitors switch between two display modes while browsing via properties: either lists or grids.
Estatik is a very straightforward plugin for WordPress featuring several advanced features, which make it possible to create a highly-interactive real-estate site with ease.
It includes clean & sharp design, customizable fields, beautiful photo gallery, extensive interface, responsive design and a lot more.
You can use this plugin to extend the functionality of your property-based site, without the requirement of PHP, CSS, JS or HTML coding. It also offers some subtle features including:
Easy to customize fields within your listings.
Compatible with most of the WordPress themes.
A large number of widgets such as map view, slideshow, advanced search and more.
Google Map integration.
Social media integration and much more.
Conclusion: Best Real Estate WordPress Plugins
All the Best Real Estate WordPress Plugins mentioned above in this blog are tried-tested. So, you can use any of them as per your business requirements and customize yourself a professional looking real-estate site. If you think there are many other Best Real Estate WordPress Plugins available, feel free to add your comments below.
Update
When we first published this article Tracey Jones listed only 6 WordPress real estate plugins in this article, now I am going to add more WordPress Real Estate, MLS Listings Plugins, and WordPress real estate themes in this article soon.
WordPress MLS Integration, MLS Listings Plugins, And Themes
Real Estate Website Builder is another free WordPress plugin to build real estate websites with WordPress. It requires WordPress 3.9 or higher.
This free plugin is from the creators of http://placester.com: This plugin lets you build your fully functional real estate WordPress based websites with a single plugin.
Real Estate WeBsite Builder Features:

1
RETS integrations available, continuously updated with your MLS.
Full international listing support (240+ countries!)
Create / edit / update / search listings.
Set listings as "Featured" to highlight them in your sidebar throughout your site.
Every listing automatically has a unique landing page created – great for SEO.
Fully customizable sidebar layout and custom Placester real estate widgets.
Unlimited images per listing.
Placester has themes free themes that work seamlessly with this free Placester plugin (hosted premium themes also available).
This free and up to date WordPress plugin lets you add a classified ads section to your WordPress blog or website quickly and easily. There are lots of other configurable features available.
This free plugin is easy to setup offers great support. This 8+ years old plugin with 10,000+ active install Another WordPress Classifieds Plugin the #1 WordPress Classified Ads Plugin. No doubt this one is one o the Best Real Estate WordPress Plugins.
Features
Search ads by city, state, country, username, or keyword
Allow AdSense ads to be displayed
Control over HTML use in ads
Limit the text size of ad postings
Standard form fields can be enabled or disabled,
depending on your needs (title, website, name, country, etc)
Allow or disallow image posting with ads
Automatic expiration of ads (free or paid)
Configurable ad display for AdSense placement
Ads can have a "Tweet This" button in their layout
Ads can have a "Share on Facebook" button in their layout
It is an MLS Listings Plugins to Add listings, IDX/VOW search, and other real estate tools to your WordPress website. It is Integrated with many MLS® systems in the US and Canada.
ClickSold adds real estate related features to Agent and Brokerage websites built on WordPress. Features include:
Adding / Displaying real estate listings
Adding Team members/office agents
Customizable real estate widgets
Optional MLS ® Integration
Mobile listing browsing and searching
Search Engine Optimized design
30 Day Free Trial for all Paid Plans is available. From FREE to $45/month. (Platinum package includes one-month free trial).
WordPress Real Estate Listings Plugin for Professionals plugin is an All-in-One Real Estate Plugin Solution for Brokerages and Agents Integrated with a High Powered Real Estate CRM Solution. This WordPress real estate plugin requires WordPress 3.0.1 or higher and PHP Version 5.4+.
If you are Real Estate Brokerage firm, working in residential and/or commercial, a single Agent or a professional Website Development team looking to build the high-end real estate listings website(s), then the Real Estate Listings Plugin for Professionals plugin is your brilliant choice! Not simply a plugin.. but a full solution!
This free WordPress Real Estate Listings plugin is truly a "full real estate solution" allowing for ease of access to manage a myriad of very important job descriptions within a real estate company/organization.
From Lead Sharing amongst the Real Estate team, Reports, Email Marketing/Blast, Property Management, lead incubation and the conversion process, it does all these important business functions and more!
This free WordPress real estate plugin is available in Spanish (Spain), Spanish (Colombian), English, Arabic, Romanian, Portuguese (Portugal) and German language.
Showcase IDX Real Estate Search is a simple, beautiful real estate search plugin for your WordPress website, that's both indexable and responsive.
Showcase IDX lets real estate agents embed a beautifully simple, yet surprisingly powerful, home search into their site.
Focusing on your visitor's experience, Showcase IDX gives your users a great experience and a reason to come back to your website to continue their home search.
Built using the latest technologies that allow us to regularly upgrade and tweak the product, so your investment continues to grow and evolves over time.
Easy Property Listings is the most versatile, sophisticated and feature-rich real estate plugin for WordPress site.
It is equipped with various mesmerizing features and functions that will help you construct a dynamic real estate site in a matter of few minutes.
This plugin also offers several templates that will help you create a site instantly within a short time period. Moreover, it offers loads of outstanding features such as:
It comes with a Theme Customization mode that reduces errors with most of the useful themes.
It also offers a "Manual Theme Setup" option for those who want to customize their site by their own.
It supports different locations and currencies, making it ideal for international listings.
It becomes easy for users to make appointments for inspections via an integrated calendar.
Support multiple listing types and pricing options.
Google map integration, and much more.